Christmas/Holiday Traditions
Below is either a list of themes or a list of 8 puzzles for a specific theme. Click on a theme or puzzle that will take you to an interactive activity. All content is printable without a charge. Thank you for sharing our vocabulary content with others.
NOTE: Each theme has a corresponding vocabulary word list that can be accessed from the home page "Word List" menu bar or below the series of puzzle activities. For answers to any questions, please email jancook{at}myvocabulary.com
Vocabulary Word List: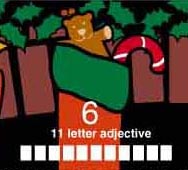 22 Christmas and Holiday Traditions word list:
blessing, chorale, collective, commemorate, cooperative, creativity, decoration, dedication, enchanting, fasting, indulgence, menorah, miraculous, mistletoe, myrrh, nativity, ornaments, responsibility, revelation, tinsel, wassail, wreath
Vocabulary Word List for Christmas/Holiday Traditions (354)
A)

Adeste Fideles, Advent, Angel, Appreciation, Aroma, Artificial tree, Assemble, Awe

B)

Baking, Balsam, Beauty, Bells, Belonging, Bethlehem, Birth, Blessings, Blitzen, Boughs, Bows, Boxes, Boxing Day, Buche de Noel

C)

Camels, Candles, Candy canes, Cards, Caring, Caroler, Carols, Carve, Catalyst, Celebrate, Celebration, Ceremony, Charity, Child, Children, Chimney, Chocolate, Christian, Christmas, Christmas cookies, Christmas Eve, Christmas past/future, Church, Cloves, Coal, Comet, Comfort, Communication, Community, Companionship, Cornucopia, Cranberries, Creche, Crowds

D)

Dancer, Dancing, Dasher, December, Decoration(s), Dolls, Donations, Donner, Dreidel, Duck

E)

Ebenezer Scrooge, Efforts, Eggnog, Elves, Email, Embrace, Emmanuel, Entertain, Entertainment, Epiphany, Eve, Evergreens, Exchange, Expectations, Expensive

F)

Faith, Familiar, Family, Father Christmas, Feast, Fervor, Festival, Festive, Fireplace, Flat-bread, Forgiveness, Frankincense, Freedom, Friends, Friendship, Frosty the Snowman, Fruitcake

G)

Garland, Gather, Gathering, Generations, Ghost of Christmas past, Gifts, Gingerbread, Gold, Goodwill, Goose, Gourmet, Grace, Gratitude, Gravy, Greenery, Greens, Greetings, Grinch, Groups, Guests

H)

Ham, Hanukkah, Hard sauce, Harvest, Heart, Heartland, Heavenly, Heritage, Holding hands, Holiday, Holly, Holy, Home, Homeward, Hope, Host, Hostess, Hugs, Humility, Hymns

I)

Icicles, Illumination, Infant, Inn, Innocence, Invitations, Ivy

J)

Jack Frost, Jack-in-the-box, Jesus Christ, Jingle bells, Jolly, Journey, Joy, Joyful

K)

Karamu, Kibbe (Lebanese dish of cracked wheat, Kinara, King Wenselaus, Kisses, Kris Kringle, Kwanzaa

L)

Laughter, Lighting, Lights, Lists, Little Drummer Boy, Love

M)

Magi, Mail, Majesty, Manger, Mantle, Meat and spices, Memories, Menorah, Merry, Messages, Midnight, Mincemeat, Minister, Miracle, Miraculous, Mistletoe, Mittens, Mosque, Mrs. Claus (Jessica), Music, Music box, Myrrh, Myths

N)

Nativity, Network, Nocturnal, Noel, North Pole, Nostalgia, Nutcrackers, Nutmeg, Nuts

O)

Observance, Occasion, Ornament, Oven

P)

Packages, Pageant, Pageantry, Parade, Partridge, Party, Patriotism, Peace, Phone calls, Pies, Pixie, Plum pudding, Poinsettia, Popcorn string, Post office, Prancer, Prayer, Presents, Pride, Priest, Priorities, Proclaim, Program, Pumpkin pie, Punch, Purity

Q)

Quality, Quantity, Questions, Quince pie, Quirky

R)

Rabbi, Ramadan, Reconciliation, Reflection, Refuge, Reindeer, Rejoice, Relationship(s), Relatives, Religion, Religious, Reminiscence, Resolutions, Reunions, Reveal, Revel, Reverence, Ribbons, Ritual, Rooftop, Roots, Rudolph

S)

Sack, Sacred, Saint Nicholas, Sanctuary, Santa Claus, Sauce, Savior, Scents, Scrooge, Scrumptious, Season, Secular, Sending, Sharing, Shepherd, Shock, Shopping, Silver bells, Sled, Sleigh, Sleigh bells, Snow, Snowman, Songs, Spices, Spirit, Stable, Stand, Star, Star of David, Stocking stuffer, Stockings, Stress, Stuffing, Sugar plums, Sundown, Surprises, Sustenance, Symbol, Symbolism, Synagogue

T)

Teddy bear, Temple, Tenderness, Tension, Texts, Thankful, Thanks, The Nutcracker Ballet, Three Kings Day, Tidings, Tinkling, Tinsel, Tiny Tim, Toboggan, Toys, Tradition(s), Train, Tranquility, Travel, Tree, Trimmings, Trips, Trust, Tug, Turkey, Twinkling, Typical

U)

Understanding, Unify, Universal, Unwrap

V)

Vacation, Values, Vanilla, Venison, Vixen, Volunteer(s)

W)

Walnuts, Wassail, Wenceslaus, Whimsy, Winter, Wise Men, Wishes, Wonder, Wonderland, Workshop, Worship, Worshiper, Wrapping, Wreath

X)

Xmas

Y)

Yorkshire pudding, Youth, Yule log, Yuletide

Z)

Zesty
Visit Christmas Scavenger Hunt, also available without a subscription charge.


www.myvocabulary.com offers more than 645 word lists. To see more vocabulary word lists and the above Christmas Scavenger Hunt word list, go to the home page for interactive worksheets, word puzzles, word games and themed content that align with Common Core. 2500 pages of free content are available only online without registration or fees.